The bomber jacket is an iconic piece of clothing for men, and for good reason. This trend is suitable for all gentlemen since it comes in a broad variety of designs, colors, and materials. There's a bomber jacket outfit for any occasion; just throw on some jeans, a white t-shirt, and some shoes, or dress it up with a button-down shirt, some chinos, and some boots.
The bomber jacket is a versatile piece that can be worn as a light outer layer in the fall and winter or as a standalone piece in the spring and summer. Check out our advice on how to wear a bomber jacket for some great ideas on what to wear on a daily basis. We'll provide you helpful advice on what to wear and how to look your best, so you can pull off the bomber jacket look with ease.
Bomber Jacket: A Brief Explanation
The bomber jacket has evolved from its original use as a military flight jacket for pilots to become a popular option for men's casual clothing. Known as the "flight jacket," its popularity among long-range bomber pilots during World War II far outpaced its original rise to fame during World War I. Pilots relied heavily on these tough, well-insulated leather coats to keep them warm on high-altitude missions, where the cabin temperature regularly dropped below freezing. The bomber jacket changed to mimic the flight jacket's more casual style as it became more popular with the general public.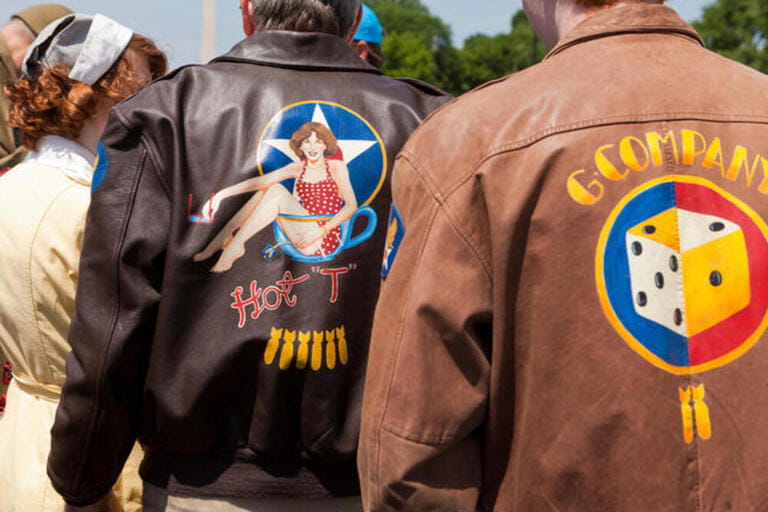 Nylon, polyester, and wool iterations of the bomber jacket became popularized, and their smaller and sleeker designs became the norm. The bomber jacket is easily identifiable by its trademark zipper on the upper arm of the left sleeve, in addition to its front zipper, fitting waistline, and ribbed cuffs. Bomber jackets come in a wide variety of styles; when shopping for a winter coat that serves multiple purposes while still looking great, look for one made from durable fabric.
Altering Suits With Bomber Coats
There are infinite ways guys can dress thanks to the traditional bomber jacket's many iterations. It's important to have a look at your jacket selections before you start putting together the rest of your ensemble. There is a wide variety of bomber jacket colors to choose from, so finding the right one for you is essential.
If you're on a strict budget, it's best to go with classic colors like black that go with everything. Those who are serious about making the bomber jacket a staple in their ensemble should buy several in a variety of colors and styles.
Finding the right jacket is the first step in putting together a great outfit. Finding the right pants, jeans, shirts, button-ups, shoes, and boots is essential for completing a bomber jacket's outfit. Dress with chinos or pants, a collared shirt, and clean white shoes for a timeless style. Skinny jeans, a black shirt, and shoes or boots are a great choice for a modern look.
Check out these recommended ways to wear a bomber jacket for guys and you'll be well on your way to a dashing new look!
Bomber Jacket, Black
When putting together an ensemble, a black bomber jacket is always a safe bet. Nylon is a popular fabric for making black bombers because of its light weight and sleek look. On warmer days, put this over a pristine white shirt and a cotton zip-up jacket. Black leather bombers are another choice; they add an elegant touch to any outfit.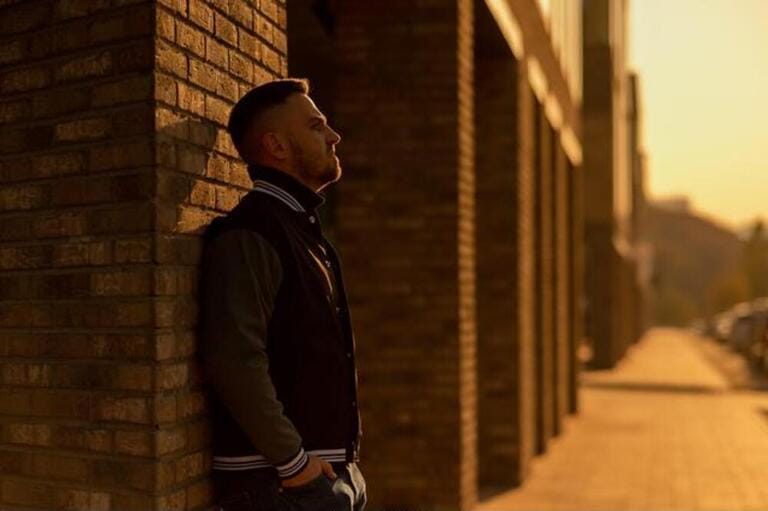 Blanket Bomber Jacket in White
A white bomber jacket may go with more ensembles than any other hue because of its crisp, clean look. A lightweight white bomber is perfect for the spring when worn with bold designs and denim to create a brilliant style that is perfect for the outdoors.
Bomber Jacket, Red
The red bomber jacket is an eye-catching, fashionable statement that calls for careful synchronization. Keep the rest of your outfit simple and let the jacket do the talking. Pair it with a pair of traditional black or white sneakers and a white or grey T-shirt.
Bomber Jacket, Blue
The blue bomber jacket is quite adaptable and may be worn with a wide range of looks. The trendy blue bomber jacket costume consists of the jacket, torn skinny jeans, a white shirt, white sneakers, and a top of your choice. This sleek and fashionable ensemble is perfect for the office or a night out on the town.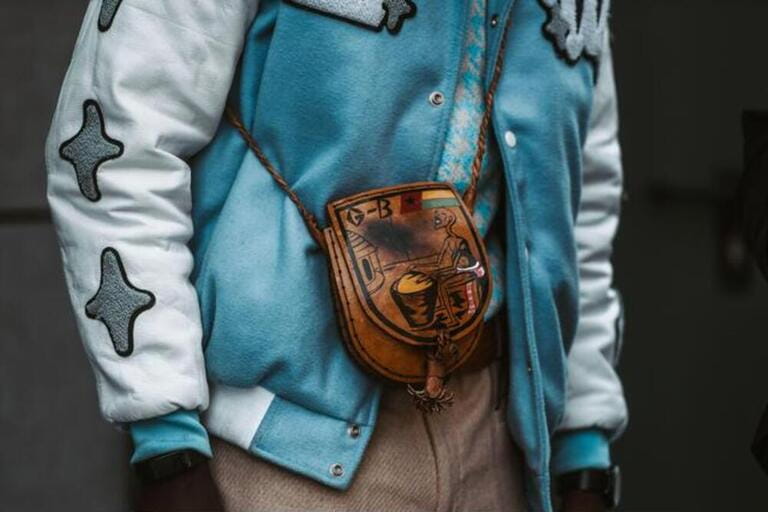 Red Velvet Bomber Jacket
The edgy, attention-grabbing style of the burgundy bomber jacket is built around a traditional wardrobe staple. Dark red or burgundy bomber jackets may seem daunting, but they can be styled just like any other color. Wear a white shirt, black jeans, and black high top sneakers and see what happens. You could also pair the jacket with some classic white sneakers, a white tee, and some light denim or khaki trousers. This item will serve as a striking accent to many different ensembles.
Olive-colored Bomber Coat
Olive green bomber jackets have a deep military heritage, echoing the original green drab of the jackets worn by aviators. The color olive is universally flattering on guys, so feel free to use it liberally in your wardrobe. Layer the jacket over a favorite brightly colored sweatshirt on chillier winter days or go for a laid-back style with dark wash jeans, boots, and a T-shirt. Put on a white turtleneck underneath that olive jacket and you'll seem much more put together.
Longer Bomber Coat
Extended bomber jackets have a tail that extends down to the thighs, whereas regular bomber jackets terminate at the top of the hip. These coats offer a contemporary mashup of the bomber and parka styles by combining their respective upper and lower halves. The extra warmth that a longer bomber jacket provides makes it a must-have for the colder months. For a chic athleisure ensemble, match them with skinny joggers and new sneakers.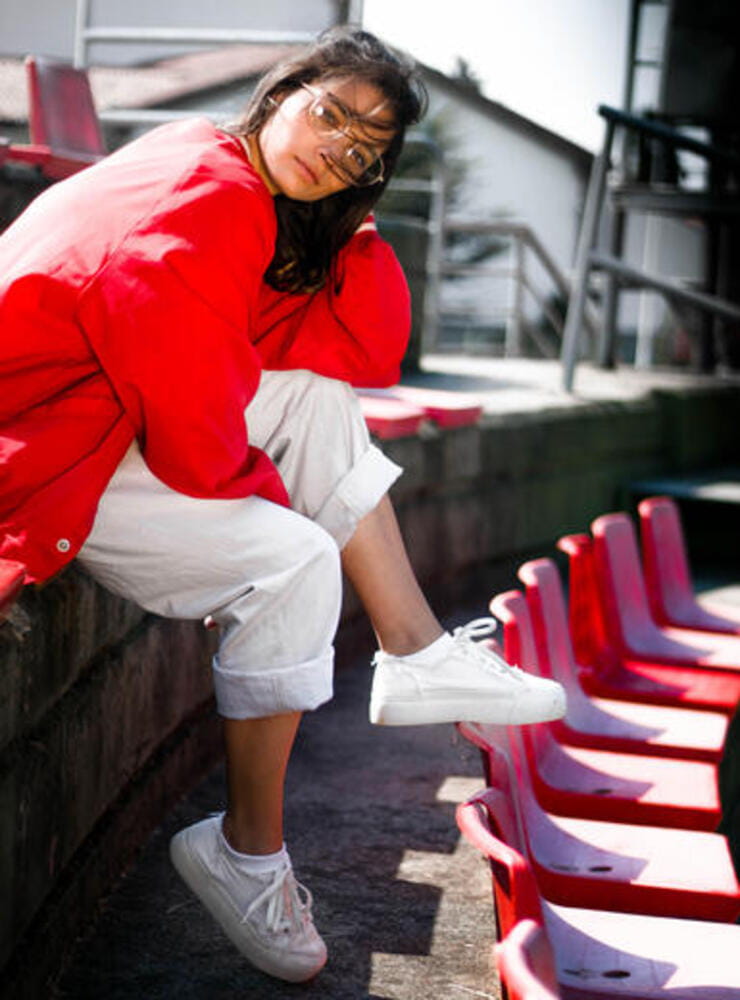 Bomber Jacket Made of Leather
The most classic style in this group is the leather bomber jacket. While brown leather is the most adaptable, black leather is great for a more moto-style aesthetic. A leather bomber jacket is a versatile outer layer that will keep you warm in any season. For a timeless, traditional style, pair a brown leather bomber with olive chinos and a white shirt.
Bomber Jacket in Suede
Adding a suede bomber jacket to your outerwear rotation is a great way to mix things up and channel the 1970s rather than the 1950s. When the occasion calls for something more laid-back, a brown suede bomber is the way to go. Over a button-down shirt and sweater, a suede bomber is a great option for dressier casual winter events.
When a Bomber Jacket Is Appropriate
Bomber jackets are versatile because of the many options available. You should exercise caution when the level of formality in the dress code rises, though, because they lack the formality of blazers.
Social Gatherings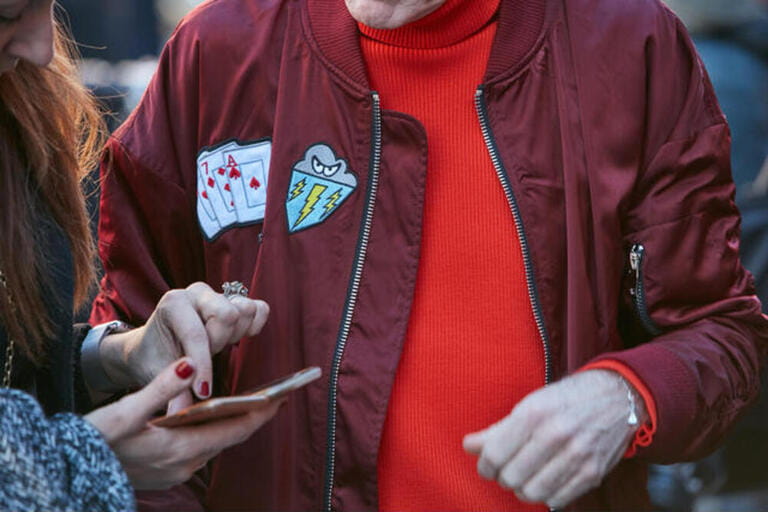 Your bomber jacket is best worn at casual gatherings. Wear a nylon jacket with chinos, desert boots, or sneakers in summer and spring. You can wear a classic T-shirt, a flannel shirt, or a polo shirt as a top layer, or you can try out some new streetwear trends. When the weather begins to cool, it's best to wear a bomber over a warm top like a hoodie or cable-knit sweater. Wear your bomber with a cozy sweater, jeans, and a pair of boots for a chic everyday outfit this winter.
Elegant Occasions for Business Casual Dress
Although bomber jackets are more commonly worn for more relaxed events, they can easily be styled to adhere to smart casual protocols as well. You may even pull off a business casual look by donning a high-end bomber jacket made from premium fabrics and boasting attractive designs. If you want to dress up your bomber, wear a jacket that isn't too flamboyant. Slim fits in timeless colors like black, brown, and olive are recommended. Suede and leather have always been associated with a sophisticated and elegant style. Put together a put-together casual outfit by pairing these with thin dark chinos or black slacks and a button-up shirt made from Oxford fabric.
How Should a Bomber Jacket Ideally Fit?
How you want to wear a bomber jacket is a major factor in determining its ideal size. Traditional cuts with roomier arms and shoulders are great options for less formal coats that serve primarily as warmers.
Look for a jacket that curves in at the waist and has slimmer sleeves for a modern silhouette. The shoulders of the jacket should fit snugly without becoming uncomfortable or stretching the fabric. Sleeve length should be taken into consideration so that the cuffed wrists do not result in undue bunching. The jacket's hem should hit at the waist for a sleek appearance.
Men's Bomber Jacket Fashion Options
Pick a shade that works well with what you already own.
Use browns, blacks, whites, and olives to complement eye-catching objects.
Try out both classic leather jackets and sleek modern nylon bombers.
Pair a bomber jacket with some jeans and a tee for a laid-back look.
Mix and match chinos, sweaters, and button-down shirts to dress up a bomber jacket.
To complete your outfit, pair your leather jacket with some sleek leather shoes.