Knowing how to properly match dress shoes with a suit is an important skill for looking sharp and polished. The right shoe choice can pull an entire outfit together, while the wrong pair can throw off the whole look. When selecting dress shoes, it's key to consider the color, style, and formality of the shoe in relation to the suit. Follow these tips to effortlessly match your footwear to your suit like a pro.
Consider the Color
The most fundamental rule is to match the color of the shoe to the color of the suit. Black shoes are the most formal and versatile, working with any suit color but optimally with darker shades like black, charcoal, or navy.
Brown shoes pair best with tan, brown, or grey suits. Be sure the shade of brown closely matches the shade of the suit – light brown with light tan, dark brown with dark grey, etc.
Avoid mixing black and brown, the contrast looks disjointed. Stick to black with darker suits and brown with lighter ones.
Beyond basic black and brown, shoes can match more unique suit colors like olive, light grey, or even patterns like plaid or checkered. Just ensure the dominant shade of the shoe mirrors the dominant shade of the suit.
Consider the Style
Oxford dress shoes are the most formal style, with closed facing and lacing. They are ideal for business suits in polished leathers.
Derby shoes are similar but slightly less formal due to open facing. They work well for suits in rough textured fabrics like tweed or linen.
Monk strap and loafer shoes also carry a bit more casual flair. Pair them with unstructured suits in more casual wool blends or cotton.
More casual boot styles like chukkas and Chelsea boots can work with relaxed suits for a dressed down look. Avoid heavily embellished boots.
The sleeker and more minimalist the shoe, the more likely it will complement a formal suit for business or formal occasions. Skip heavily brogued, decorated, or chunky options.
Consider the Formality
Formal business suits call for equally polished, sleek shoes. Shiny leather oxfords in black or brown are ideal pairs.
Less formal suits like cotton or linen can be matched with shoes in materials like suede that carry more relaxed appeal.
Both the suit and shoes should align on formality – either both formal, both casual, or in-between. Don't mismatch a lounge suit with very formal patent leather shoes.
Additional Considerations
Beyond color, style, and formality, a few other tips will keep your shoes suit-appropriate:
Opt for thinner over chunky soles, which elevate formality
Match the texture of the shoe leather to the texture of the suit – matte with matte, glossy with finer fabrics
Pick simpler, smaller broguing over heavily perforated patterns
Ensure the shoe last matches the lapel width – slimmer shoes for trim fits, wider for full cuts
Brown shoes convey more approachability for client meetings versus stark black
Monochromatic shoes and suits streamline the look
Shoe fit should complement your pant break – avoid large gaps at ankles
Properly coordinating your shoes and suit checked off, you can step out looking polished, professional, and put together. Follow these guidelines and soon matching with be second nature. With the right shoes, your suit will convey the exact tone and image you intend. And you'll eliminate the cringe-worthy style blunders that come from shoes that miss the mark. So invest in a pair or two of versatile dress shoes in basic black and brown. With fundamentals like oxford and monk strap styles in smooth leathers, you'll be set to complete any suit with shoes that flawlessly match.
Tips for Finding Dress Shoes to Match Your Suit
Consider Material and Texture
The material of your suit and shoes should complement each other in both color and texture. Here are some guidelines: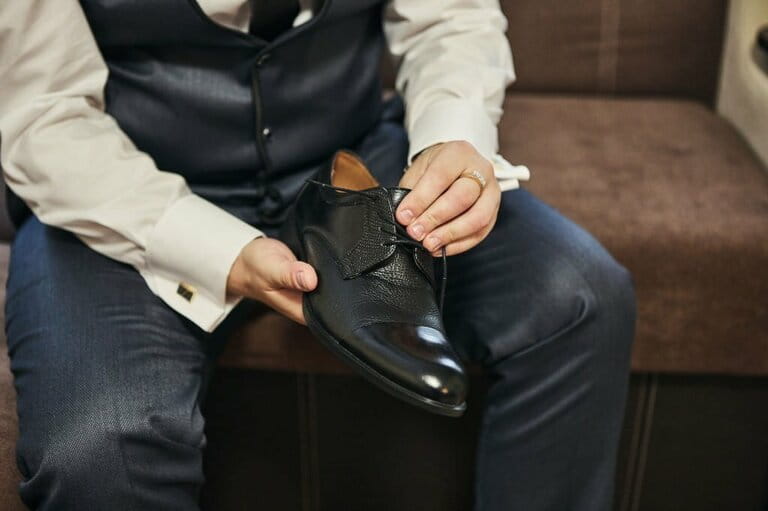 Wool suits -> Calfskin or cordovan leather shoes (smooth, sleek)
Wool blend suits -> Calfskin or suede shoes
Cotton or linen suits -> Suede, nubuck shoes
Textured suits like tweed or herringbone -> Pebble grain or scotch grain shoes
Shiny suits -> Patent leather shoes (avoid dark brown)
Match the formality and matte vs. gloss levels of the fabrics for a cohesive aesthetic.
Aim for Versatility
If this is your first foray into dress shoes, opt for versatile foundational styles and colors like:
Black oxfords – match with nearly any suit color
Dark brown oxfords or monk straps – pair well with grey, navy, tan
Medium brown derbies – for tan, brown, blue, or patterned suits
Build on the basics before venturing into brights, prints, metallics, two-tones, etc.
Consider Last Shape and Profile
The shape and silhouette of the shoe should harmonize with the cut of the suit: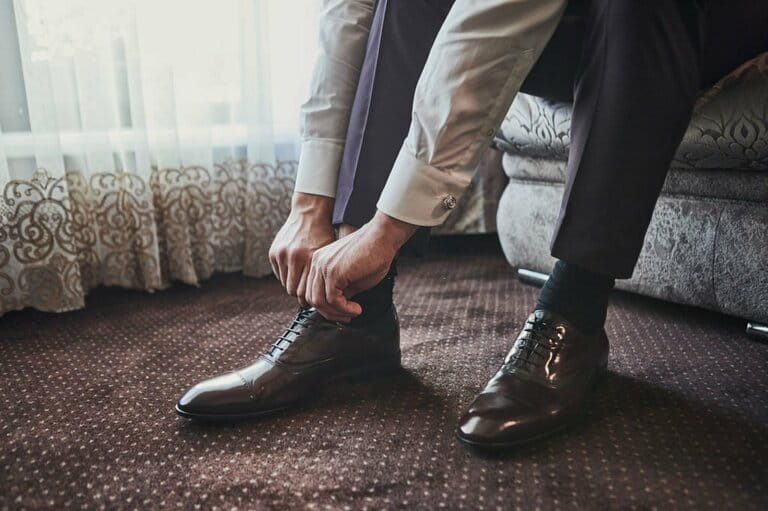 Slim fits -> Sleek last, narrow toebox, thin sole
Tailored/modern fits -> Moderate profile, rounded toe
Classic/wide fits -> Broader last, gentle taper, rounder toe
If the shoe last contrasts sharply with the suit cut, it ruins the balance.
Mind the Details
Subtle elements like perforations and sole color also affect formality perception:
Minimal broguing for business suits
Darker sole edges for formal shoes, contrasting tones for casual
Thinner and leather soles for sleeker profile
Shop with Intention
When investing in dress shoes, shop with specific suit pairings in mind rather than grabbing generics. This ensures optimal matches in color, style, and last shape.
Budget for Quality
Quality leather dress shoes keep their shape, age well, and resole/refresh nicely. With proper care, they last for years. Cheaper shoes lose form and show wear quickly.
Matching Shoes and Suits for Different Events
Business Suits
For professional business events, interviews, client meetings: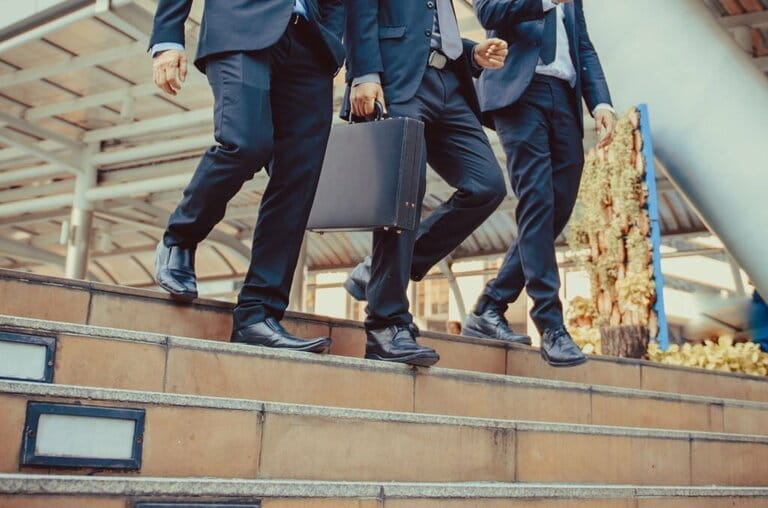 Shoes: Black oxfords, minimal broguing, sleek last, thin leather sole
Suits: Solid navy, grey, black, sharkskin – wool or finer fabrics
Tone: Polished, sleek, formal
Omit bold colors/patterns. Stick to fundamentals – it conveys trust and authority.
Formal Events
For momentous occasions like weddings, graduations, galas:
Shoes: Black patent leather oxfords or monk straps
Suits: Dark solid wool suits, pinstripes, dinner jacket tuxedos
Tone: Ultra formal and celebratory
Break out the shinier shoes and sharply tailored suits – time to look your best.
Smart Casual Style
For dinners out, date nights, weekend events: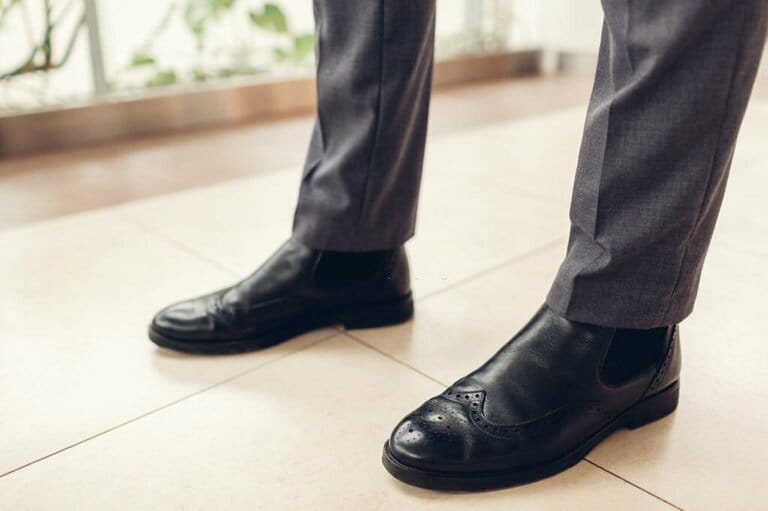 Shoes: Brown monk straps or Chelsea boots, suede oxfords
Suits: Cotton, linen, wool blends – relaxed fits and earth tones
Tone: Sharp but approachable
Dial back the formality a notch while still looking neat and together.
Creative Field Events
For parties, networking events, or creative fields:
Shoes: Two-tones, metallics, brights, unique patterns
Suits: Textured wool, nontraditional colors and patterns
Tone: Artistic, conversational, stylish
Show off your creative flair with bolder complementary pairings. The occasion sets the tone – adjust formality accordingly. Nail combinations for diverse events.
Conclusion
A man's shoes reveal much about his sense of style. When paired strategically with a well-fitting suit, they complete the look to convey polish and taste. Follow fundamental color-matching practices while considering formality, texture, and occasion. Invest in versatile shoes like black oxfords and brown derbies as cornerstones, then build on your collection with unique statement pieces.
With the right attention to detail, your footwear choices will elevate your entire appearance, making coordinating suits and shoes intuitive over time. So step out looking sharp and assured, with shoes that flawlessly finish off your tailored ensemble.